End of Northern Ireland peace lines is aim of week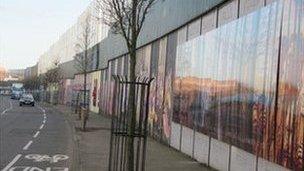 Monday marks the start of the 10th Community Relations Week in Northern Ireland, aimed at showcasing work to deal with the legacy of the Troubles.
The Community Relations Council has said while progress has been made, sectarianism remains deeply rooted.
There are now nearly 90 interfaces by some estimates, compared to 22 when the Good Friday Agreement was signed.
But chairman Tony McCusker said there was a real will on the ground to change that situation.
"There's a youth group that operates across the divide in west Belfast which has a major year planned for 2019," he said.
"Because 2019 is when it'll be 50 years from when the first peace line was set up.
"Their aim as a group of young people is to get them all down by then."