Woman airlifted after Rathlin Island bicycle fall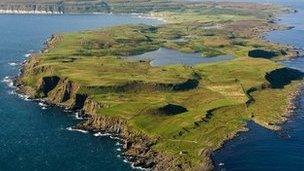 A 27-year-old woman has been airlifted to hospital after falling off a bicycle on Rathlin Island.
She sustained head injuries and is being treated at the Causeway Hospital in Coleraine, where her condition is stable.
The alarm was raised at about 15:15 BST on Saturday.
The Irish coastguard helicopter flew from Sligo to bring her to hospital.