Metal thieves target Downpatrick and County Down Railway museum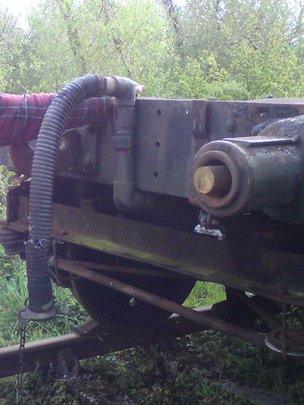 Metal thieves have targeted a railway museum in County Down.
Four train buffers and three coupling screws were taken from a wagon at the Downpatrick and County Down Railway on Saturday. An attempt was also made to rip steel cabling from a steam crane.
Police believe a lorry and cutting machinery were used in the robbery.
The theft was discovered after a volunteer spotted people wearing high-visibility clothing at a section of track not being worked on.
Railway Chairman Michael Collins said: "Our volunteers discovered that the buffers - basically the shock-absorbers - had been cut off an engineering flat wagon we use to transport sleepers around our line to where they are needed.
"Not only does this render the vehicle useless, as it prevents us coupling it up into a train, but it's also incredibly risky as these buffers are sprung and can be under tension, and to release that tension not knowing what you're doing could have caused serious injury."
Mr Collins said local scrap metal dealers have been asked to look out for people trying to sell items which look like they come from a railway.
Police have appealed for information.
Related Internet Links
The BBC is not responsible for the content of external sites.