Marian Price being interned says SDLP's Alban Maginness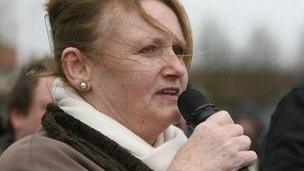 SDLP justice spokesman Alban Maginness has accused the secretary of state of interning dissident republican Marian Price without trial.
Last week a judge dismissed charges against Price and three men arising from an Easter commemoration.
The three men have been released, but Price is still in custody.
She was jailed for the IRA bombing of the Old Bailey in London in 1973, and last year the NI Secretary revoked her release from prison on licence.
She also faces a charge in connection with the murder of two soldiers at Massereene Barracks, but was granted bail in that case.
Alban Maginness said Price has not been allowed due process in law.
"We do not support putting people away in prison because of intelligence or because of some political point of view and we are convinced that she has been detained without trial because of that by the secretary of state," he said.
"She doesn't even have her own counsel to represent her in relation to the intelligence report.
"They appoint a counsel, an outside barrister, to represent her on that - her own defence counsel can't even look at the intelligence report. How is that due process."
However, the DUP's Peter Weir said due process had been followed.
"We have the 2001 legislation and she's in exactly the same position as hundreds of other former prisoners who are out on licence," he said.
"I'm not going to be crying too many tears over Marian Price - she's somebody who got a get out of jail free card in 1980 because she was supposed to be at death's door, 32 years later she's clearly been involved in other activities.
"That has led to the revocation of her licence and she deserves to be in jail."