Rochdale-type abuse cases 'occur in Northern Ireland'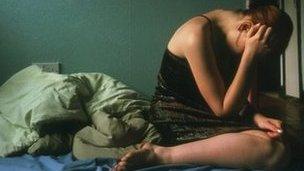 Vulnerable young girls in Northern Ireland are being sexually exploited in the same way as those in a recent case in Rochdale, a charity has said.
Last week nine men were jailed for the exploitation of vulnerable girls in the Lancashire town.
Jacqui Montgomery-Devlin is the manager of Barnardo's Safe Choices service which aims to protect children at risk.
She said most of the girls she deals with are around 14, but some are as young as 10.
"One young girl said to our worker in the past, trying to describe her experiences, she said 'me being raped is like you making a cup of tea, that's how often it happens and that's what life is like for me'," Ms Montgomery-Devlin said.
"Sadly that's how she's accepted life because that's all she's known.
"And then we do wonder sometimes why these young people make poor witnesses - it's because sometimes they can't decipher who did what, when to them. It all becomes a bit of a blur."