British-Irish trade is discussed at event in Dublin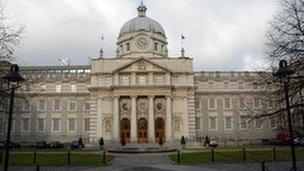 Measures to boost trade between Britain and Ireland will be on the agenda during a meeting of the British-Irish Parliamentary Assembly on Monday.
The co-chairmen of the Assembly, Joe McHugh TD, and Laurence Robertson MP, have said that building trade opportunities between Britain and Ireland is key to economic growth.
They were speaking ahead of the meeting in Dublin.
Practical measures would be considered, the co-chairmen said.
Mr McHugh said: "The UK accounts for 42% of total Irish exports, and Ireland is the fifth largest market for British businesses.
"It is vital that we continue to develop this trading relationship, in particular in the context of the economic downturn.
"One such area is through building opportunities for trade and investment between our islands."
"The feedback from business leaders is therefore crucial in building a policy environment that supports and encourages trade."
He said the need for shared services in the area of health care provision would also be examined.