Community nursing plans 'a facade' says RCN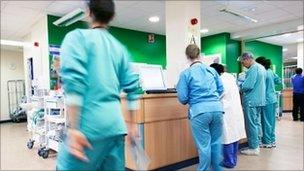 Government plans to move care from acute hospitals to community settings have been branded a "facade" by the Royal College of Nursing.
The RCN said that in Northern Ireland the number of district nurses fell by 8% between March 2010 and March 2011.
It warned this risked producing a "revolving door" for patients, who are discharged from hospital to find the support is not there in the community.
The Health Department said change was needed to maintain quality and safety.
A survey of community nurses conducted by the RCN suggested that many are facing cutbacks and spending less time with patients.
The number of health visitors and school nurses also fell during the same period.
The organisation said many patients who are discharged without support at home then have to be readmitted to hospital at great expense.
Janice Smyth, director of the RCN in Northern Ireland, added: "Further plans to cut nursing posts across Northern Ireland will undermine patient safety by artificially and randomly reducing the nursing workforce with no consideration of patient need.
"Feedback from RCN members working in frontline services across Northern Ireland indicates that the current pressures on the system are unsustainable.
"This has most recently been seen through the significant political and media attention focused upon pressures on accident and emergency services."
In a statement, a spokesperson for the Department of Health said: "The minister has made it clear that fundamental reform of the health service is long overdue.
"So if we are to deliver the best outcomes for everyone and maintain high levels of quality and safety, then there must be change."
The spokesperson added that under ongoing health reforms, there "will be a significant shift from the provision of services in hospitals to provision of services closer to home".
"Those nurses already delivering this more localised care very successfully will doubtless be surprised to find an RCN statement referring to enhancing community services as a facade," the statement said.