Former carer - RQIA inspections must be more rigorous
By Marie-Louise Connolly
BBC Northern Ireland health correspondent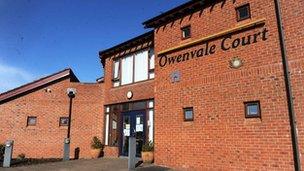 A former carer at a Belfast residential home has said the regulatory body must carry out inspections more rigorously.
The man, who has worked in several care homes, said the RQIA did not make itself accessible to staff and there were not enough unannounced visits.
He claimed paperwork was amended and homes were cleaned ahead of scheduled inspections, giving a false impression.
RQIA's director of regulation, Phelim Quinn, said more than 50% of their care home inspections were unannounced.
Last week, it emerged that the care provider at a west Belfast care home is about to be deregistered as it had failed to comply with several notifications.
Problems at Owenvale Court residential home, which is run by the charity St John of God Association, were first brought to the RQIA's attention last July.
Michael, which is not his real name, worked at a number of homes including Owenvale Court.
He told the BBC he desperately wanted to talk to an RQIA representative but was never able to access them.
"I'd like the RQIA to be more rigorous in its inspections, to be free to explore areas that are not designed for them to see, but to be free to walk around other parts of the building and see other services being provided," he said.
"Staff should be able to speak freely to enlighten RQIA as to what is actually happening on the ground."
He said he felt frustrated that staff would prepare records and clean buildings before RQIA inspections.
"In more than one residential home, management would spend days filling in records which were incomplete, trying to amend staff rotas which hadn't been filled and even bedrooms were cleaned to show them at their best.
"It was all false - they weren't seeing what was really going on behind closed doors."
As part of its remit, the RQIA carries out unannounced inspections. In January this year, the RQIA carried out three such visits at Owenvale.
According to this care worker, neither staff nor families were contacted.
"At no time did the RQIA come to speak to staff or, as far as I know, families," he said.
"Perhaps they were contacted independently at home, but they should be given access to areas where the staff can talk to them freely and with no fear of losing our job."
In April this year, a resident at Owenvale Court died in a fire which broke out in her bathroom.
The owners of the building, Helm Housing, told the BBC it was unfortunate that all the agencies involved, including the Belfast Health Trust and the charity, had not got together sooner to confront the growing problems.
Mr Quinn defended the RQIA's inspection policy and said that although care home managers were present during announced visits, inspectors could speak "freely and discretely" to staff.
"RQIA inspectors would and can take staff to one side and we can afford them the protections under the public disclosure legislation here in Northern Ireland," he told BBC Radio Ulster.
Mr Quinn also said his organisation was "frequently contacted" by whistleblowers via phone and email.
He said their complaints often triggered unannounced inspections, which could happen "any time of night or day".
Meanwhile, a former director of the Care Quality Commission (CQC) in England has said the regulatory industry is weak.
David Johnston resigned from the post after a few months as he felt frustrated by the lack of willingness to bring about change.
Speaking to the BBC, he said it was essential for organisations such as the RQIA to interview staff.
"Early intervention is essential. The frustration for me was the lack of power we had in the CQC, it was just too weak and I couldn't get things done.
"We are talking about people here, they are patients but they are men and women with feelings. The whole regulatory industry is just too inaccessible for staff and for the families. People are too afraid to speak out for fear of losing their job or being bullied. "
Like the RQIA in Northern Ireland, the CQC makes sure that essential standards of quality and safety are being met where care is provided, from hospitals to private care homes.
It has a wide range of enforcement powers to take action on behalf of people who use services if services are unacceptably poor.
Mr Johnston said that while this looked good on paper, the remit and powers of such organisations were actually quite limited.
He is coming to Northern Ireland on Tuesday, where along with representatives from the organisation Patients First, they are hoping to meet the Health Minister Edwin Poots.
Mr Quinn said: "RQIA runs under a very, very different set of legislation processes to CQC".
The director of regulation claimed the frequency of visits by the RQIA in Northern Ireland was much greater than that of the inspection body in England.
The RQIA said it was continuing to monitor Owenvale Court to ensure the safety and well-being of residents.
Related Internet Links
The BBC is not responsible for the content of external sites.