Country queen Philomena Begley reigns on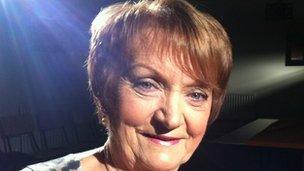 Ireland's Queen of Country, Philomena Begley, is celebrating 50 years in show business this year.
At the weekend, she went back to where it all began, the parish hall in Ardboe, County Tyrone.
Philomena Begley never intended to be a singer.
She was on a night out in Pomeroy in 1962 when a friend dared her to get up and sing with the Old Cross Ceili Band.
They were so impressed, they asked her to officially join the band. She sang at her first gig in Ardboe on 11 May, 1962.
"I'll never forget it," she said. "I travelled along with the band that night and it'll always stand out in my mind, because the band was already dressed to go on stage. They had black suits and white shirts and dickie bows.
"I had a big white frock on me with the petticoats all sitting out and a big red cummerbund round the middle."
Since then, her career has taken her around the globe.
She has performed in the world's capital of country, Nashville and taken to the stage there at least seven times.
"You always dreamed of going to Nashville and appearing on the Grand Ole Opry," she said.
"I was lucky enough to work with Hank Locklin. We worked in Ireland and England on the tours and he set up for me to go to Nashville.
"Then I appeared on the Grand Ole Opry with Porter Wagner. It was great."
But coming home to Tyrone and to Ardboe where it all started was a big deal for the star.
"I feel excited and nervous really. I am just so pleased to see such a big crowd coming in."
Country music is enjoying a resurgence in popularity. The audience in Ardboe ranged from young to old, all jiving and singing along.
"I can't believe all these young people queuing up to come in," said Philomena.
"There's a whole new generation of fans for the new singers and it's a complete turnaround at the moment."
A compilation of the Pomeroy singer's music, The Philomena Begley Collection, has now sold more than 100,000 copies worldwide.
The achievement was marked with the presentation of a gold disc during Saturday night's concert and the crowd was delighted for her.
"I've been following Philly for about 48 years now," said a male fan.
"I just love her singing and my favourite song of hers is The Old Cross of Ardboe. If she's in the vicinity at all, I'm there!"
"We had great times at the dances," said one woman. "She's a great girl and I wish her all the very best."
The milestone is also being marked with a tour and a concert party in Spain to celebrate her 70th birthday.
"It's still a great honour to be able to go out there and sing and I actually love every night that I go on stage, I just love it," Philomena said.
"For anybody that would be hoping that I'm thinking about retiring, I've no intentions of it!"