Officers disciplined over Jim Heasley investigation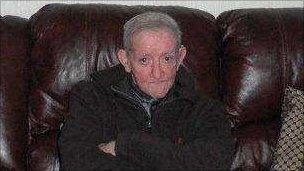 Seven police officers have been disciplined over their handling of an investigation into the death of a man in Lisburn in October 2010.
Jim Heasley, who was 70, died ten days after he was assaulted as he walked home. Initially, police believed his injuries were the result of a fall.
In March, a 48-year-old man pleaded guilty to the pensioner's manslaughter.
An investigation by the police ombudsman found a series of failings in the initial police response.
The pensioner was attacked in Manor Park, as he walked home to Graig Gardens after a night out at his local pigeon club.
Jackie Allen, of Ravarnet Gardens in Lisburn, was initially charged with his murder, but was jailed for three years after admitting manslaughter.
The police ombudsman upheld a complaint against the PSNI which was made by Mr Heasley's brother David.
He told BBC Radio Ulster's Nolan Show that as soon as he saw his brother in hospital, he knew the injuries were the result of an attack.
However, he said it took more than a week for the police to realise that the pensioner had been assaulted.
"They were treating it, that a 70-year-old with a drink problem who had one fall too many, and that's as far as they were prepared to go on it," Mr Heasley said.
"To say disappointed is an understatement, I was truly gutted at the response of the police and the whole family felt the exact same," he added.
Mr Heasley did not wake from a coma and died from his injuries.
"We were asking questions which the police weren't, and what made it even worse, the police actually gave this man a lift home after the assault," Mr Heasley said.
The police ombudsman found that the pensioner's wounds were not photographed, nor was his clothing seized for analysis after PSNI officers received a report that Mr Heasley had been admitted to hospital with head injuries.
The investigation also found that officers should have carried out a "more robust examination of the incident scene".
It also criticised police for failing to "properly review" all available CCTV evidence until a week after the attack and said the investigation should have been referred to the Criminal Investigation Department (CID) at an earlier stage.
In a statement the PSNI said it had examined the police ombudsman's findings and complied with requirements.
"We recognise that there were failings in the initial police handling of this case and we have apologised to the family for that.
"However we are glad that, thanks to the subsequent thorough and focused police investigation, this case was brought to court and an individual has now received a custodial sentence in connection with Mr Heasley's death," the statement said.