Temporary reprieve for health administration jobs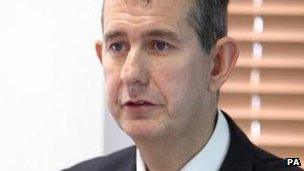 There will be a temporary reprieve for health administration staff in Counties Down and Londonderry whose jobs were due to be relocated elsewhere.
Last year it was announced that four centres of expertise were to be created which meant some workers faced a commute of an extra 100 miles.
Health Minister Edwin Poots has now said that "satellite" offices will be created in Downpatrick and Londonderry.
Mr Poots said the arrangements would be in place for a maximum of two years.
Currently each of the five health trusts has its own administration department which includes payroll and human resources.
The Department of Health wants to centralise the services, creating four centres of expertise instead.
The payroll function will be administered from College Street in Belfast; payment transactions will be undertaken from the Braid Valley Hospital site in Ballymena; income transactions will be located in Omagh, at the Tyrone and Fermanagh Hospital site and Armagh will be the centre for the recruitment and selection function.
However, in a statement to the Stormont Assembly on Monday, the minister said 25-30 staff would be accomodated at a temporary "accounts payable satellite office" in Downpatrick while about 15 staff would work in a "recruitment & selection satellite office" in Derry.
He said the decision had been made following a "significant response" to a public consultation on the relocation plans.
Mr Poots told the Assembly: "This subject is a complex one and - as my postbag can testify - one of some controversy".
In March, the SDLP's Margaret Ritchie claimed the plans could discriminate against women, due to the fact that most of the 35 employees who would be affected by the move in Downpatrick were female.
The South Down MP had called on the Equality Commission to examine the issue.
In his statement, the minister acknowledged that many off the staff who would be most affected by the relocation were "women in the lower pay bandings, often working part-time and with family or other caring commitments".
Mr Poots said he believed the amendments to the orginal proposals would "considerably reduce the displacement difficulties for the affected staff and will provide additional time for employees and employers to come to a mutually acceptable arrangement".