Sickness bug outbreak at Antrim Area Hospital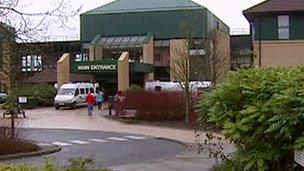 Thirty patients at Antrim Area Hospital have contracted the vomiting bug, gastroenteritis.
The Northern Health and Social Care Trust said it had declared an outbreak in five wards.
The hospital said it had put the emergency department "under considerable pressure".
Medical director Dr Peter Flanagan said stringent measures had been put in place to contain the infection.
Patients with the bug have been isolated and ward cleaning has been increased to twice daily.
"We are also re-iterating good hand hygiene practice to staff and issuing infection control guidance," he said.
Dr Flanagan said they had experienced a sharp rise in gastroenteritis in the past few days and had declared an outbreak as a precaution.
"Once it gets into a closed environment like a hospital, no matter how good your infection control practices, it can be quite difficult to contain it but we're working very hard at the moment to do that,"
"A number of staff have also been affected.
"This has put our emergency department under considerable pressure.
"We are working hard to get people admitted, however, this is more challenging in the current circumstances."
He urged visitors to leave children under 12 at home and not to visit if anyone is feeling unwell or have recently had diarrhoea.
The public are also being urged to wash their hands when entering and leaving the ward, not to bring food or flowers into hospital and not to sit on the patient's bed.