Jonathan Bell apologises over golf club sectarianism comments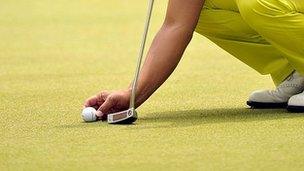 A DUP junior minister has apologised for comments suggesting that Northern Ireland's golf clubs may harbour secret sectarian attitudes.
Jonathan Bell and Sinn Fein junior minister Martina Anderson both made the suggestion during a community relations conference on Monday.
The local branch of the Golfing Union of Ireland said it completely disagreed with the ministers' comments.
Mr Bell has now said his comments were clumsy and he regretted them.
Earlier, speaking at the Community Relations Week conference, Mr Bell said: "Many communities may not paint their kerb stones or put out flags, but scratch the surface and you find the prejudice and the hate whispered behind closed doors or joked about in golf clubs or over dinner parties."
However, speaking later on BBC NI 's Stormont Today, he said it was "a clumsy use of language".
"Sorry is what I essentially want to say," he said.
"I think the point that we all wanted to make today was that sectarianism wasn't confined just to working class communities.
"Golf plays a vital role in our society. You look at Rory McIlroy, Darren Clarke and Graeme McDowell, you look at the record numbers coming to the Irish Open, you look at the positive contribution that golf has made in bringing groups together."
Earlier, Ms Anderson of Sinn Fein also brought up the issue of golf clubs.
"There's attitudes among middle class society here in the north, in the golf clubs that Jonathan referred to and elsewhere.
"Talked about behind closed doors the unspoken and hidden sectarian comments that we may not hear about, but that are doing absolute fundamental damage to our society.
"We have to find a way of bringing about that attitudinal change among the hidden sectors of our society that we do not get an opportunity to engage with.
"And that may be in the golf clubs or in those spaces were there may not be tension as such but there are attitudes there that are doing damage."
The chair of the local branch of the Golfing Union told the BBC he completely disagreed with the ministers' comments.
Peter Sinclair said: "I completely and utterly disagree with what the two junior ministers have said.
"Our council represents a very broad section of the community irrespective of religion and class and we all get on extremely well.
"Discrimination has never been an issue in our sport and I hope it never will."