John O'Dowd to announce extra money for initiatives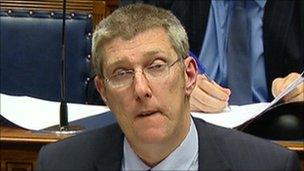 The minister for education is expected to announce extra money will be allocated to a series of initiatives.
John O'Dowd is scheduled to reveal the amount, and its purpose, to the assembly later.
A number of recent announcements have eased the pressure on school budgets.
In January the minister said £120m had been found to spend on schools over the next three years, although only £30m of that had been guaranteed by the finance minister.
It is understood the latest money will be spent on a range of measures, and not just allocated into school budgets.
The chair of the education committee, Mervyn Storey, will be briefed on the latest new allocation of money.
He said he did not know how the department kept finding extra cash from within its budget.
He said it looked like mismanagement and his party colleague, Finance Minister Sammy Wilson, had told the education department he wanted to see better forecasting of its spending.