Conference looks at chronic pain 'road map'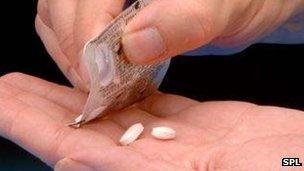 The treatment of people with chronic pain is to be discussed at conference in Northern Ireland on Tuesday.
It is being opened by Health Minister Edwin Poots and will involve 300 people including patient groups, clinicians, regional health commissioners and the pharmaceutical industry.
The aim is to sign up to a Northern Ireland road map for action on pain.
This will outline seven policies to improve the quality of life for those living with this long-term condition.
The conference comes after a report indicated that the level of treatment and care for patients with chronic pain varies widely across the five health and social care trusts (HSC).
It also showed that education and training in pain management for health care professionals was not formalised in Northern Ireland.
Dr William Campbell of the British Pain Society said: "There are variations in the treatment options provided to patients and cost inefficiencies across the five HSC trusts in Northern Ireland.
"This means that the most appropriate care options are often not being considered and the needs of patients with chronic pain are not being met."
Dr Pamela Bell of the Pain Alliance of Northern Ireland said they needed to look at where there were gaps in the pain management services.
"This summit is the first step to ensuring that patients suffering from chronic pain receive optimum care and treatment.," she said.
Kate Fleck of Arthritis Care in Northern Ireland said that, to date, chronic pain had not been viewed on the same platform as other long-term chronic conditions.
"It is imperative that we alleviate the burden that chronic pain has upon the individual, society and the economy as a whole," she said.
The conference follows a major pain policy event at Stormont where 11 MLAs signed up to a Northern Ireland road map for action for pain.
Related Internet Links
The BBC is not responsible for the content of external sites.