Sean Quinn Spotlight tracks down company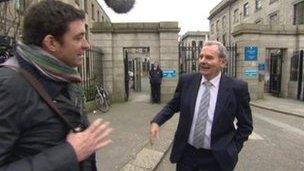 An investigation by BBC NI's Spotlight into Sean Quinn's empire has tracked down the headquarters of a company that controls more than $100m-worth of assets belonging to Irish taxpayers.
Jim Fitzpatrick travelled to Belize on the hunt for a company that has laid claim to the millions.
Mr Quinn went bankrupt in January owing 2.8bn euros to the Anglo Irish Bank.
It hoped to recover around 500m euros through sales of Quinn Group's international property portfolio
However, the bank, now nationalised and called Irish Bank Resolution Corporation, soon discovered that it had lost control of these valuable assets.
The business empire Sean Quinn built up was itself effectively nationalised last year, leaving taxpayers to inherit the massive debts.
In Ukraine, the bank's appointed property director is locked out of the valuable shopping mall it owns.
Spotlight spoke to Rostislav Levinzon outside the $60m shopping centre in Kiev, but like him could not get inside.
Security guards interrupted filming and told the production team to leave.
Mr Levinzon described how the management team, which the bank dismissed, called police to remove him whenever he tried to take charge.
They arrived with assault rifles.
Mark Rachkevych, a journalist with the Kiev Post, told the programme how that first encounter made the headlines.
"It was embarrassing for everybody there because the management office is next to the bowling alley and this was afternoon time, when a birthday for kids was taking place and mothers saw people with flak vests, helmets and AK47s come in, and they were shocked at seeing this.
"So this is bad for business, whoever is in charge of that place," he said.
The dismissed management remain in charge and Mr Levinzon remains locked out.
Meanwhile, the bank is losing almost $1m a month in rent due to Irish taxpayers.
The programme uncovers documentary evidence in Sweden which demonstrates that Sean Quinn was part of a secret boardroom coup which put him back in charge of the property empire weeks after he had been dismissed from the Quinn Group.
And in Belize, where the biggest slice of taxpayers' money is now tied up, Spotlight finds its surprising home.
Spotlight: Sean Quinn's Missing Millions is on BBC One on Tuesday May 15 at 10.35pm