Bangor trials free internet access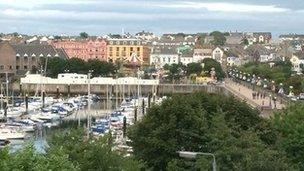 For what is thought to be the first time ever, there will be free internet access in one of Northern Ireland's town centres - Bangor.
North Down Council is paying for it and it will cost £14,000 to install.
DUP Councillor Peter Martin said it was being trialled and tweaked at the moment.
"We do believe that projects like this will encourage footfall into the town centre," Mr Martin said.
"Bangor town centre has to compete with out-of-town shopping centres, some of which offer free wi-fi.
"So at least we're putting Bangor town centre on a level playing field from a business perspective."
However, not everyone is in favour of the plan.
Frank Shivers, who runs a coffee shop in the town, said: "We'd have customers who come in solely to log on, reps and what not, who'd come in to log on to wi-fi.
"Potentially there could be custom lost there."
Related Internet Links
The BBC is not responsible for the content of external sites.