Empey seeks guarantee on Heathrow airline slots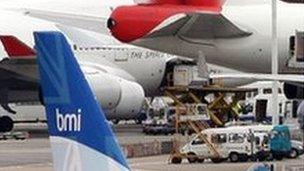 Ulster Unionist peer Lord Empey is to ask Westminster to guarantee landing slots at Heathrow for Northern Ireland flights.
The former UUP leader has introduced an Airports Amendments Bill into parliament which he hopes will safeguard Belfast to Heathrow slots.
Airlines which own the slots can sell them off or use them for difference routes.
Lord Empey said the government did not have the power to ring-fence slots.
He said his bill, introduced on Monday, was " designed to give government powers to ring-fence slots at Heathrow for any UK region".
"At the present moment, the government has absolutely no powers whatsoever," he said.
"The airlines can do whatever they like. They own the slots, they can sell them, they can use them for different routes and there's nothing the government can do about it.
"I don't think that is satisfactory.
"Unlike many continental airports, if a regional city has a problem in getting connectivity to a hub airport, they can add extra slots on for the region. You can't do that at Heathrow.
"We can't have this sword of Damocles hanging over Northern Ireland all the time."
Lord Empey said the threat to Northern Ireland's major route was "bad for business, it's bad for tourism and it's got to be stopped".
"There is a major European dimension to this but fortunately, while there is a civil aviation bill in parliament at the moment, there is also major work going on in Europe on exactly the same thing, including how slots are traded."
He said he was working very closely with others in a bid to persuade Brussels and London to include in legislation a regulation allowing the government to designate the routes as special regional routes of economic significance.
"This would require the airlines, if they wanted to sell their slots, to go to the Civil Aviation Authority to get clearance," he said
"That would give us power to formally and permanently guarantee the Belfast-Heathrow route in perpetuity.
"We must have a guaranteed access to the main hub airport so that our business people and our tourists can get in and out of Northern Ireland and be certain that that route is there without having this threat hanging over us all the time."