Education minister to re-allocate £72m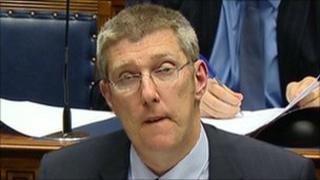 Minister for Education John O'Dowd has said he has found £72m in his budget to re-allocate to a range of sectors over the next three years.
Special schools, buildings maintenance and early years services will receive the largest amounts.
The money is to go to services which help education but are not part of individual school budgets.
This year, £27m will go towards addressing the serious backlog in school maintenance.
Early years services will benefit from £13m released for Sure Start schemes, more pre-school places and extra payments for voluntary and private schemes.
There is an increasing number of pupils who need help with free school meals and uniform grants and the minister will give more than £4m to pay for that.
Excluded
Special schools could receive up to £18m to cope with increasing demand.
Youth services will be given an extra £5m for use in disadvantaged areas and for young people who feel excluded.
Mr O'Dowd said the money was not new to his budget, but has been released through savings in other areas, such as the examinations board, the CCEA, which has been asked to save almost £3m this year.
The minister, however, said that despite this announcement, education would be more than £200m worse off in 2015 than it is now.
The Sure Start government-led initiative is meant to give children the best possible start in life.
It offers a range of services focusing on family health, early years care and education and improved wellbeing programmes to children aged four and under.