New security checks for some EU flights leaving Dublin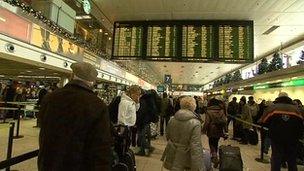 Additional security measures are being introduced on plans departing from Dublin Airport for other EU airports.
Transport minister Leo Varadkar said aircraft searches, which were suspended 18 months ago, are to be re-introduced.
Passengers transferring through another European airport will now be re-screened when they land at those airports from Dublin.
Although this does happen at times, it will now be carried out on all passengers all of the time.
Mr Varadkar said aviation security had to be "100%".
The changes are being introduced following an audit by the European Commission on the airport's compliance with EU aviation security rules.
Other airports in the Republic of Ireland are not affected.