Property People apologises over student rant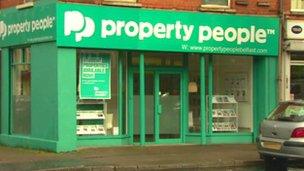 A Belfast property company has apologised to a student who was verbally abused by a member of its staff.
The Property People employee also threatened the man at a house in the Holyland area of south Belfast. A recording of the incident went viral on the internet site, Youtube.
The firm's senior partner, Colin Moran, said he was devastated. "We do not in any way condone such behaviour, such unprofessional behaviour," he said.
Mr Moran was speaking to the BBC's Talkback programme on Tuesday and said he would be meeting the student, Bill McAtavey, later.
He said the company would be looking into how it trains and develops staff.
"This behaviour goes in the face of everything that we represent," he said.
"This individual has not only let himself down, (but) his company down and his co-workers down and since the internal investigation the individual has been suspended.
"I have since been in contact with the student and offered my unreserved apologies for the disgraceful behaviour that he has had to endure as a result of this employee."
The staff member let himself into the rented house on south Belfast's Damascus Street and swore at and berated Mr McAtavey.
At one stage the man threatened to knock the "head off" one of those inside the house.
He also called him several derogatory names.
Mr McAtavey recorded the conversation, then posted it on Youtube. Within days over 25,000 users had played it.
He told Talkback: "Everyone in the business is getting tarred with the same brush and it's kind of it's unfair for one colleague to do that."
Mr McAtavey said he had accepted Mr Moran's apology on behalf of the company but wanted one from "the man who came into my house and did that to me".
But he said he had been taken aback by those who posted nasty or threatening comments about Property People on Youtube.
"I love the way so many people are supporting me, the universities and everyone, but I really didn't like the way that some people reacted towards it. Two wrongs don't make a right," he said.
Mr McAtavey said Property People had offered to issue an apology in writing.