NI ice cream vans in Balmoral show protest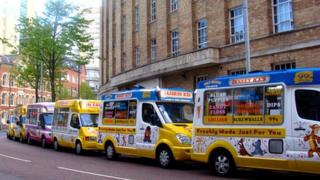 Disgruntled ice cream drivers are protesting ahead of the Balmoral Show.
A number of vans took part in the protest which included a tour of Belfast city centre.
The vans displayed banners claiming that the company responsible for catering contracts at the King's Hall have given Northern Ireland ice cream vans the cold shoulder.
Catering company for the show, Hamilton Kirk, said it is a business decision that they stand by.
"There is a Scottish contractor that comes in, but there are also several local people who do ice cream in the hall," said Bruce Kirk from Hamilton Kirk.
But Belfast ice cream seller John Duff said he has been trying hard for a number of years to get into the biggest agricultural show in Northern Ireland.
"We've been trying to get into the Balmoral Show for six years. People are looking to support the local economy and local produce," said Mr Duff.
'Maybe next year'
Another driver, Robert Morelli, said he had been trying to speak to Hamilton Kirk to find out why Northern Ireland ice cream van drivers are finding it difficult to get into the show.
"We can't get an answer. As long as they sell local produce, that's enough. That's all they tell us.
"We've written letters, phoned them up, emailed them. We had interviews with them two or three years ago and we got the same answer, maybe next year," Mr Morelli said.
Bruce Kirk said in response that no one is prohibited from taking up a stand at the show but said: "From one year to the next we invite people to do one show, then to come back the following year, all things being equal if they provide a good service."
In a statement the Royal Ulster Agricultural Society have said that ice cream contracts are part of an overall catering contract for the show.