NI pensioners 'missing out' on benefits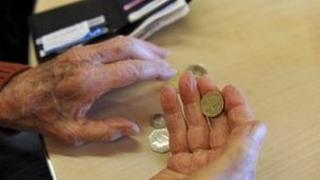 Pensioners in Northern Ireland could be missing out on unclaimed benefits worth up to nearly £200m.
The figure is contained in the latest report from the assembly's Public Accounts Committee.
With about 55,000 Northern Ireland pensioners classed as living in poverty, the watchdog has urged older people to check their entitlements.
PAC chairperson Paul Maskey said it was "unacceptable to think" there may be millions in unclaimed benefits.
He added: "Currently there is no accurate or up-to-date estimate of the benefit uptake gap.
"Social Security benefits make up a significant proportion of older people's income, and it is imperative that older people receive all of their entitlement."
The report found that where the Department of Social Development had specifically targeted people, there was an increased uptake in benefits.
However, the report noted that fewer than half of those contacted replied to officials and only 9% successfully obtained additional benefits.
Mr Maskey said: "From my own experience, I know that older people can be reluctant to talk to government agencies or share their personal circumstances with officials.
"We also know that many people are more comfortable talking with representatives from the independent advice sector and other community groups.
"We believe that all those agencies involved in paying benefits should work more closely with the voluntary and community sectors to target hard-to-reach groups. "