Axe, sword and knives seized at Belfast international Airport.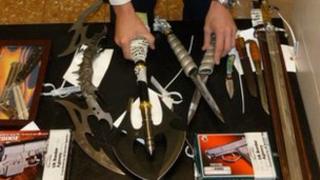 Weapons including an axe, a sword, and an assortment of knives have been seized by Border Force officers at Belfast international Airport.
The weapons were found on Wednesday 9 May after officers searched the baggage of a passenger arriving from London who had travelled from the USA.
A 22-year-old County Armagh woman questioned about the find was cautioned and released while enquiries continue.
On another flight two replica pistols found in a passenger's bag were seized.
Since the beginning of May, officers at the airport have seized more than 150,000 cigarettes and 64 kgs of hand rolling tobacco from travellers.
John Spence, from Border Force at Belfast International Airport, said: "It is illegal to bring knives and weapons into Northern Ireland from overseas - just because you can legally buy an item while abroad does not mean you can legally bring it into the UK.
"We are determined to prevent lethal weapons reaching our streets and ignorance of the law is no defence.
"Whether you are trying to deliberately smuggle weapons into Northern Ireland or simply unaware of the controls in place if you are found breaking the law by carrying banned knives and offensive weapons then you will be stopped, the weapons will be seized and you may face prosecution."