Augentius Fund Administration creates jobs in Belfast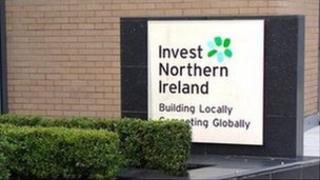 A London-based financial service firm is to create up to 164 new jobs in Belfast.
Augentius Fund Administration carries out back office functions, including accountancy and regulatory work, for major investors.
Invest NI is giving the firm a grant of £2.8m as part of the overall £14m investment.
The company said it expects to recruit all its staff locally by the end of 2014.
The Enterprise Minister Arlene Foster said it was a "significant milestone in the development of the financial services sector in Northern Ireland".
She said the company had considered several other locations, including Canada, China, India, Dublin, and other UK cities.
Educated
Mrs Foster said the decision to choose Belfast reflected "the very strong reputation that Northern Ireland has built up as a cost-effective working environment with access to a skilled and educated workforce".
Augentius confirmed that 17 jobs had already been created by the opening of its new "operational centre of excellence" in Belfast, and said that was expected to rise to 30 by the end of the year.
David Bailey, who is a founder and managing partner of Augentius, said his firm had "continued to grow throughout the recession" and needed to create a second operational centre to increase its capacity.
"There are clear, strategic benefits for us in establishing an operation in Northern Ireland," he said.
Training
Mr Bailey explaied that the "availability of high quality people along with a strong educational sector" were important factors in making the decision to locate in Belfast.
He added that Augentius had developed a reputation for training junior and part-qualified accountants and added they were looking forward to working with Queen's University and the University of Ulster.
Augentius was formed 10 years ago and started with premises in London and Guernsey.
It has since expanded, opening offices New York, Luxembourg, Mauritius, Singapore and the Netherlands.