Search for IRA murder victim Columba McVeigh expected to end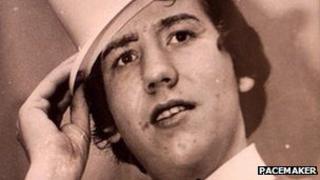 The latest search for Columba McVeigh, one of the so-called Disappeared, in Bragan, Monaghan, is due to end soon.
The 19 year old from Donaghmore in County Tyrone, was kidnapped and killed by the IRA in 1975. His body has never been recovered.
In a statement, the Independent Commission for the Location of Victims Remains (ICLVR) said their search was drawing to a close without success.
It was the fourth in a series of searches for Mr McVeigh.
Search teams concentrated on an area which was planted with trees shortly before his murder.
Three previous searches have been carried out in the area, near Emyvale.
The disappeared are those who were abducted, murdered and secretly buried by republicans during the Troubles.
Geoff Knupfer, head of the investigations team at the commission, said they had had no success to date.
"We set out to undertake a very specific programme of work and we have completed that work, sadly without finding the remains we were looking for," he said.
"It is important to stress that the commission is information led. If we have information, we will act on it. We do not go in for searching blindly.
"At the moment we have no information that would merit us starting a new search, we are always hopeful."
Mr Knupfer said it was important to be realistic about the chances of finding the "disappeared".
"We try to manage people's expectations. A lot of these cases are 40 years old. It is literally like searching for a needle in a haystack."
The latest search for Columba McVeigh began on Monday 23 April close to the border with counties Tyrone and Fermanagh.
Forensic archaeologists and contractors are at the site.
In June last year, DNA tests were carried out on remains taken from a graveyard in Scotstown in County Monaghan. However, the results showed it was not Mr McVeigh.
Vera McVeigh, who campaigned tirelessly for the return of her son's body, died in 2007 aged 82.
The bodies of eight of the Disappeared - Jean McConville, Eamon Molloy, John McClory, Brian McKinney, Danny McIlhone, Charlie Armstrong, Gerard Evans and Peter Wilson - have been found since 1999.
That was the year the Independent Commission for the Location of Victims Remains was established in a treaty between the British and Irish governments.
Seven other victims have still not been found.