Plans to make whiskey in old Crumlin Road jail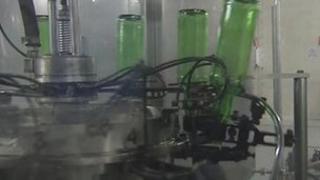 Lottery millionaire Peter Lavery has announced plans to turn part of the former Crumlin Road Prison in north Belfast into a distillery.
The £5m investment will see the A wing of the listed building turned into a boutique distillery that will use his existing brands of whiskey.
There will also be a visitors' centre, tasting room, bar, restaurant and shop. It is claimed the project could create 60 jobs. Up to five of those jobs will be in the distillery.
Proposals for regenerating the historic building were invited last year by the Office of the First and Deputy First Minister. They said the distillery was the preferred option.
Mr Lavery is the chief executive of the Belfast Distillery Company which is behind such brands as Titanic and Danny Boy whiskey.
He said A wing in the jail was ideally suited to the new use "without compromise to the character or the architectural and historic interest" of the building.
He said it would be the first distillery to operate in Belfast for more than 75 years and "bring back to prominence an industry with which the city has long historical associations".
Stormont minister Martina Anderson said it was a "welcome boost" for north Belfast.
"It is always encouraging to see a local man investing in his home city and never more so given the challenging economic times we are experiencing," she said.
"The current economic downturn has affected many sectors, including the tourism, retail and business services and this announcement will be warmly welcomed, particularly in the local area. This is a good day for Belfast."
Her executive colleague, Jonathan Bell, said his department had invested more than £5m on a restoration programme at the jail to help facilitate such projects.
"We are committed to promoting sustainable urban regeneration where there is benefit in terms of tourism, improvement to the environment, contribution to the local community and the potential for significant job creation."