Doctor denies 'different' testimony in McKeown case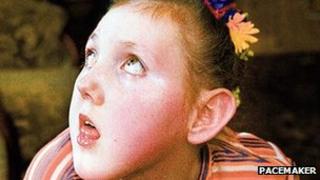 The doctor at the centre of the case involving the death of a disabled girl, has denied that her evidence in court has been "significantly different" to statements she made at the time.
Dr Mary Donnelly is testifying at the Rebecca McKeown's manslaugher trial.
The 14 year old died in hospital in March 2001, five days after she had been looked after by her grandparents, who are accused of killing her.
David and Sarah Johnston, from Carwood Drive in Glengormley, deny the charges.
Rebecca, who was severely disabled, could not walk, talk or feed herself and needed 24-hour care.
She died after contracting pneumonia which, according to the prosecution, came as a direct result of a sexual assault she suffered at the hands of one or other grandparent.
Nervous
Dr Donnelly, who was working as an out-of-hours locum GP at the time, was called to examine Rebecca on 19 March 2001 after the teenager started bleeding from her vagina.
Under cross examination at Belfast Crown Court on Thursday, the doctor said the police came to her surgery to take a statement from her less than 24 hours after she had carried out the examination.
She said she felt it was "completely out of the ordinary" to make a statement without any notes available to her but said she "wasn't given an option".
She told defence QC Gavan Duffy that she felt "nervous" about making the police statement but denied it was because she felt she had done something wrong.
Dr Donnelly said she had never given a statement to police before and added that it would be "quite intimidating for anyone".
Mr Johnston, 88, and his 86-year-old wife, are accused of Rebecca's manslaughter on 24 March 2001 and a further offence of child cruelty five days previously on 19 March.
The teenager was registered blind and suffered from a number of medical conditions including cerebral palsy, scoliosis of the spine, and severe epilepsy.