Making a dramatic impact on dementia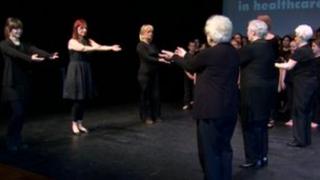 Dressed in black and moving slowly but purposefully across the stage, the Black Widows dance company, is making a dramatic impact on the local health service.
Aged between 85 and 102, the silver haired women, all have various degrees of dementia.
Instead of taking a back seat, the group is taking part in the Arts Care 21st anniversary international conference being hosted in Belfast this week.
Arts Care is all about bringing art into a diverse range of healthcare services - including dementia.
Movement
Step up the Black Widows, who approach dementia with a fresh, even youthful, approach. Guided by instructors, through movement, they're able to express their feelings.
Also, muscles that may have lain dormant for some years get to benefit.
The Black Widows, who are members of Ballyowan Day Care centre in North Belfast, were formed during the Arts Care Older Peoples Art Festival in 2010.
While their illness often means they look back to the past, the group are forward thinking with their approach to coming to grips with the condition.
As well as dancing, they're socialising and enjoying sharing their experiences with other similar groups.
While rehearsing for the event at Stranmillis College in Belfast, the women danced to music provided by a group of young people.
Emotional
It was an emotional few hours with young and old sharing a few laughs and tears.
One of the dancing team said: "It's just lovely to meet people especially the wee ones."
Another said: "I love coming together with everyone, especially with the children; having fun and learning new dances gives me a sense of achievement and pride."
Chief Executive of Arts Care, Dr Jenny Elliott said: "Arts in health is a growing field within healthcare practice and Northern Ireland is leading the way, not only nationally but also internationally. The conference will be filled with examples of evidence-based practice from leading academics and practitioners, including Clown Doctors."
It's estimated that there are 19,000 people living here with dementia; fewer than 1,000 of these people are under 65. But as the population of Northern Ireland ages, dementia will increasingly be a major public health and societal issue. It's estimated that figures will rise to 23,000 by 2017 and around 60,000 by 2051. The cost to society is also likely to increase dramatically.
Health officials are keen to promote alternative therapies, such as dance to complement conventional medical interventions.
Benefits
It also fits into the ongoing plan to treat more people in the community closer to home. In fact there are various benefits.
Alternative therapies will, in time, help reduce the massive medication bill that the Department of Health is keen to reduce.
It also helps people who live with depression, to seek help in the community and leave their house to socialise. Their families also feel the benefits.
Arts Care is a charity and receives funding support from the Department of Health and is endorsed by the five Northern Ireland health trusts. It also receives crucial funding and support from the Arts Council of Northern Ireland.
Damien Coyle, vice chair, Arts Council of Northern Ireland said: "The Arts Council has been a steadfast supporter and funder of Arts Care for the last 21 years. Art introduces a reassuring human dimension to health care environments and through working with patients, staff and visitors artists can complement conventional medical interventions."
This weeks conference will host influential guest speakers from the UK, Republic of Ireland, Australia, Finland, Canada and the United States.
According to the organisers its aim is to explore, celebrate and gain in-depth knowledge of international models of best arts in health practice and research development.