Bankers try to reap benefits of booming agri-sector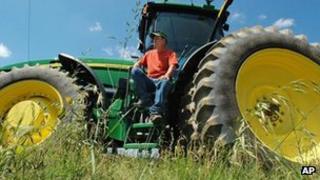 Bankers in Northern Ireland have a new mantra: find farmers and ditch developers.
The property crash has pushed construction-related business in Northern Ireland off a cliff, dragging down the banks as they go.
Billions have been written off in bad property loans. Banks are in no mood to speculate in property - they did too much of that before and they got their fingers badly burned.
The private sector economy remains 16% below its peak five years ago as the effects of the property crash and global downturn hit home.
But output within the sub-sector of food, drink and tobacco has increased by almost 13% in real terms.
Banks need to do more than cut their losses in property. They need to find a means to make some profits too and they have fixed their beady eyes on our oldest industry - agriculture.
Developers are broke, but farmers are rolling in it, their income doubling since 2006.
Ulster Bank economist Richard Ramsey has been crunching the numbers.
"Within agriculture, fluctuations in prices and subsidies mean the key performance measure is income and profitability," he said.
"During the last financial year, Northern Ireland's total income from farming (TIFF) increased by almost 15% in real terms - over seven times the estimated rise for the UK.
"Since 2007, NI's TIFF has increased by almost one-third in real terms and has almost doubled since 2006."
The increase enjoyed over the last year - of 15% - is pushing up manufacturing sales and exports by a similar margin.
It's the only thing that is boosting the figures. When you strip out the agri-food sector you can see how important it is.
Mr Ramsey said that, with food and drink excluded, manufacturing sales have decreased by almost £2.1bn, or 21%, since 2007/08.
"Clearly the stellar performance of our agri-sector within the latest manufacturing sales and export figures conceals the sheer scale of the downturn elsewhere," he said.
At the Balmoral Show in Belfast, the new-found popularity of farmers is in evidence.
It has always been a big event for the agricultural community, but it is becoming a much bigger deal for many other industry sectors too.
Courting
Food retailers are spending vast sums on their marquees - Marks and Spencer have built a full food-store, complete with cookery demonstrations and fully-staffed exhibition space explaining their sourcing policies.
They clearly want to court the farmers as both suppliers and customers.
Some companies are willing to admit that in recent years they paid too little attention to this important, and potentially lucrative, sector.
Creagh Concrete employs more than 400 people making a range of concrete products at its Toomebridge base.
During the construction boom it did a lot of trade with developers in the Republic of Ireland. This has now gone, and farmers are filling the void.
Salesman John Treanor said the company was now doing about 70% of its business with farmers, supplying slatted concrete flooring for livestock sheds among other products.
He said they had "nearly forgotten" about farmers during the construction boom but have now "copped themselves on".
Ulster Bank is the principal sponsor of the Balmoral Show and has a large presence there.
It lent out more than £100m into the sector last year and says it is winning new business.
The other banks would love to have stands, but Ulster Bank has exclusive rights.
This doesn't keep the competition away, as their representatives pitch up where they can at other companies' stands, making sure they get to meet those existing and potential customers.
For the farmers, all this love and attention is welcome.
But Freda Magill from Rathfriland, who brought her Wensleydale hoggets to the show, said the banks would have to work harder to make up for their sins of the past.
"I can remember a lot of things from the past and they'll have to be a lot more friendly," she said.