Bus survey finds road worthiness defects and traffic offences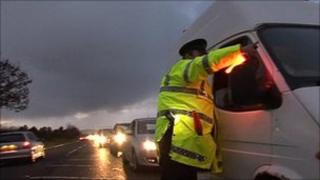 Almost one quarter of buses tested in NI had a serious road worthiness defect or were committing at least one serious traffic offence, a survey has found.
The figures were revealed by the Driver and Vehicle Agency in its first ever Northern Ireland Bus Compliance Survey.
Inspectors checked 483 buses for road worthiness and traffic offences, such as tax, insurance and licensing.
About one-sixth had a serious defect, while about 10% of the checks uncovered at least one serious traffic offence.
Stephen Spratt from the Driver and Vehicle Agency (DVA) said the survey was the "first of its kind" in Northern Ireland.
Regulation
"It was very much about trying to gauge a benchmark on how compliant the bus industry was right across the board," he said.
"We considered vehicles being used for school transport, stage carriage and private hire services that the public generally would use and we also carried out some inspections at operators premises.
"We want to go back in a couple of years time and re-measure.
"Now that we have ascertained certain benchmarks, all of the work and the strategic approach and effort we're going to put in in the intervening period should hopefully pay off and see a marked improvement in compliance levels."
Mr Spratt said Northern Ireland had very much been "playing catch up" with compliance levels in the rest of the UK.
"There's a lot of work going on and being taken forward by the department the moment in trying to bring about better and more effective regulation through new legislative requirements placing a lot more emphasis onto operators," he added.
The survey identified a variety of mechanical defects, lights and signalling problems, braking faults, other PSV offences and issues with bodywork and interiors.
'Spotlight'
Environment Minister Alex Attwood said the report put a spotlight on bus operators and was "not good reading".
"This is not good enough, and a lot of work needs to be done to raise standards within the bus industry," he said.
"As minister, I have insisted that regulation is the way to go - for hauliers, taxis, and bus and coach operators."
He added: "With increased resourcing through the recruitment of additional full-time enforcement officers and the use of fixed penalty notices by my department, the levels of non compliance should reduce."
Roadside checks were carried out between January and March on randomly selected buses across Northern Ireland.
Safety record
The overall figure was similar to a survey of taxis, where no faults were found in 75.3% of vehicles tested, but this was significantly higher than the 68.8% figure in a comparable survey of HGVs.
In a statement, public transport operator Translink said it wanted to "assure all passengers that bus travel is very safe".
The company said it was aware that some of its buses had been included in the DOE survey but added that it had not seen the results yet.
However, Translink confirmed that it had not received any prosecution notices and insisted it "worked hard" to maintain its safety record
It added that 96% of all Translink buses passed their PSV roadworthiness assessment the first time.
The company said its buses recorded an average of 43m miles per year and claimed that travelling by passenger transport was "seven times safer than travelling by car".