Car hijack victims 'failed by outdated damages law'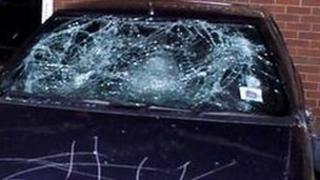 A leading solicitor has called on the Department of Justice to review the law on criminal damage compensation.
Kevin Winters said recent hijackings in Belfast highlighted the difficulties car owners can come up against when trying to claim compensation.
Current law in Northern Ireland says criminal damage has to be caused by three or more people, or terrorist acts, before compensation can be paid.
Both the SDLP and DUP agree the current system is in need of review.
Figures obtained by a Freedom of Information request show that, between April and September 2011, less than one fifth of the 474 criminal damage claims were successful under the "three or more persons" criterion.
Frustation
Mr Winters says typical criminal damage cases would be hijacking and attempted theft damage to cars and these fall foul of the stringent condition on the number threshold.
"I would call upon the justice department to have an immediate look at this. It happens day and daily. Many ordinary people are getting a real sense of frustration and failure in not being able to process their lawful entitlement to damage compensation," he said.
"The legislation is outdated, outmoded and needs a review."
Neil Gorman, a taxi driver from Bangor, had his car hijacked and burned by two men.
His claim for criminal damage was rejected by the Compensation Agency.
"I was told that due to, as far as I am concerned, an antiquated law that there had to be three or more people involved or terrorist related, I was not entitled," he said.
"I felt for my life that night with two guys in the car. I have always paid my insurance, always paid my taxes and I have not been given anything back. They need to review it."
Justified
SDLP policing spokesman Conall McDevitt dealt with some hijacking victims last year who had to claim through their insurance as they were unable to seek criminal damages.
He says legislation needs to reflect changed times.
"The point of a criminal injuries damage system is that people who are, through no fault of their own, victims of crime should have recourse to some sort of compensation where that is justified," he said.
The chairman of the justice committee, the DUP's Paul Givan, says the Department of Justice needs to assess how it assists victims of crime.
"I do not hear any defensible reason why you need to have at least three people involved in the crime to entitle you to compensation. It is preventing victims from getting support and that is something the department needs to consider as part of their review into the Compensation Agency," he said.
"I want to see a Compensation Agency that is reflective of the needs of victims, can meet those needs and is not operating on outdated regulations which are denying victims the compensation they are entitled to."