Animal carcasses dumped in ditches raising a stink in Tyrone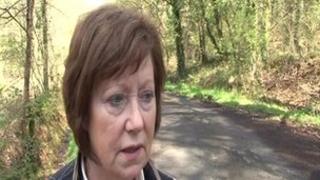 Walkers in remote areas of Tyrone say they're finding more and more dumped dead farm animals.
The cost of clearing them from public areas is borne by the ratepayer, but there is a scheme for farmers to use.
So far this year, Seskinore residents, Rosemary and Bob Salisbury have found six dead animals.
"Usually, you experience the smell first. The stench is horrendous. You look in the ditch and there's a dead sheep or a dead calf," said Rosemary.
"I've found four dead sheep and two dead calves and they've clearly been dumped there, they haven't just got there by themselves."
"It seems ironic," said Bob. "When half the country is trying to attract more visitors to Northern Ireland, you've got people throwing dead animals into our ditches and onto our roadsides.
Stinking
"Just think what it would be like, for a family that's chosen to come to Northern Ireland on a cycling or walking holiday, horse-riding - coming along these lanes and coming across stinking carcasses."
Identification marks had been removed from the carcasses found most recently by the Salisburys.
A sheep had been part-shaven and a calf had had its ears cut off, to prevent its ear tags and tattoos being used to trace the owner.
The Ulster Farmers' Union says only a small minority of farmers illegally dumpss animals. In the past, an animal that died on a farm could be buried there for the cost of digging a hole.
Then legislation was brought in outlawing that practice and the National Fallen Stock Company was set up to remove and safely dispose of dead livestock for a nominal fee.
"We believe there is a good method now of disposing of animals," said Harry Sinclair, president of the UFU. "Unfortunately if you have livestock, you will always have some dead stock and there is that means now of doing it properly."
Disease
The UFU said farmers dumping animals in remote areas in the dead of night are not only risking prosecution.
"They're putting the bio-security of other farmers at risk as well," Harry said.
"One of the things we would be calling for is for farmers to think before they do these things, because the last thing we need is someone spreading some disease."
And infection is a concern for the Salisburys as well.
"I walk my dogs around here and dogs are curious animals," said Rosemary. "You don't know what they're picking up or what sort of diseases are spreading across through the water."