Martin McGuinness sought co-operation in Smyth inquiry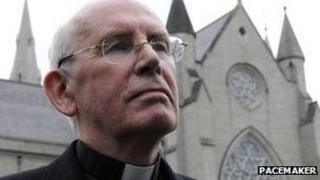 Sinn Fein has said the deputy first minister pressed the justice minister to ensure police co-operated with a cross-border inquiry into the crimes of paedophile priest Brendan Smyth.
A spokesman for Martin McGuinness denied he asked the justice minister to consult police about the possibility of prosecuting Cardinal Sean Brady.
It was over his part in the failure to inform police about the abuse in 1975.
Sources told the BBC Mr McGuinness raised the Smyth case on 3 May.
This followed revelations in a BBC This World programme that the cardinal had the names and addresses of children being abused by Smyth, but did not ensure their safety.
The well-placed sources said that at an executive meeting, Mr McGuinness asked asked the justice minister David Ford to formally ask the PSNI about the possibility of prosecution, given the 1967 Act which makes it an offence not to report a crime.
But Sinn Fein said Mr McGuinness did not mention the cardinal but asked Mr Ford to ensure the PSNI cooperated with if there was to be a cross-border inquiry, as called for by Archbishop of Dublin Diarmuid Martin.