Seven people face dissident republican charges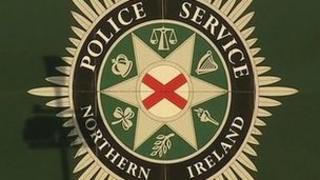 Six men and one woman in Northern Ireland have been charged with a series of terrorist offences, including conspiracy to murder.
Three of the men - suspected members of the dissident Irish republican group the Real IRA - were arrested in Lurgan, near Belfast.
It follows a major police investigation into dissident republican activity - carried out in conjunction with MI5.
The seven are due to appear at various courts on Saturday.
One of those charged, a 47-year-old arrested on Monday in Lurgan, County Armagh, faces the rarely used charge of directing terrorism.
He and two men aged 41 and 42 are to appear in court in Lisburn, charged with offences including conspiracy to murder and to cause an explosion.
Two men arrested in County Tyrone last Saturday are due in court in Omagh.
The men, aged 33 and 34, were arrested in Carrickmore and Omagh.
'Endanger life'
Both have been charged with possession of a firearm with intent to endanger life, attendance at a place used for terrorist training and preparation of terrorist acts.
Two more people - a 46-year-old man and a 37-year-old woman - were charged with directing terrorism, bringing the total to seven.
The three men appearing before Lisburn Magistrates' Court on Saturday have all been charged with conspiracy to murder, conspiracy to cause an explosion, preparation of terrorist acts and collecting information of use to terrorism.
A police spokesperson said officers had "worked closely with colleagues in the Security Service and, latterly, with the Public Prosecution Service to reach a point where charges have been brought".
The Real IRA is one of several hardline republican groups opposed to the peace agreement signed in 1998.