Carntogher Community Association gets £500K to save endangered woodland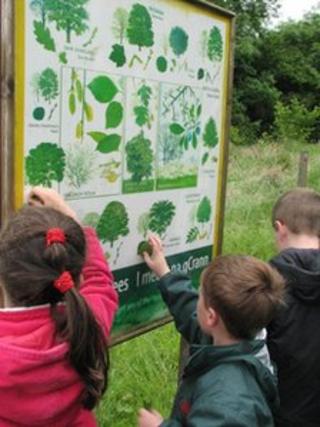 A County Londonderry community group has secured more than £500,000 in funding to protect endangered woodland.
Carntogher Community Association is to buy 130 acres of land near Maghera.
The Northern Ireland Environment Agency is contributing more than £250,000, whilst the Heritage Lottery Fund is giving more than £500,000.
The area contains ecologically significant habitats and trees dating back to the 1600s, as well as two iron-age forts.
Niall O'Kane of Carntogher Community Association said it was "a dream come true".
'Landmark project'
"This is a grassroots, community-driven project that will provide the opportunity for the entire community to get involved in a landmark heritage project over the coming years," he said.
The new site is beside Drumnaph forest, which is managed by the Woodland Trust.
That site was also previously acquired with the help of lottery funding.
Mr O'Kane said: "This will bring the size of the Drumnaph reserve to over 200 acres, giving a critical mass of inter-linked habitats that will ensure the long-term sustainability of the reserve.
"The involvement of the wider community in developing access and managing the reserve will also help develop the sense of community ownership, further underpinning its long-term sustainability for generations to come," he said.
Paul Mullan of the Heritage Lottery Fund said the woodland had been at "significant risk of destruction", but this funding would build on their investment in Drumnaph.
"Northern Ireland has very little woodland cover, only 6% compared to an average 12% for the rest of the UK," he said.
"This project will not only equip volunteers with ecological conservation skills but will also provide a good practice model for community management of woodland, wetland, and grazing habitats."
The site is home to a diverse range of wildlife, including sparrow hawks, buzzards, otters, Irish hares, and wading birds.
The project will see the implementation of a 10-year management plan in line with the UK Biodiversity Action Plan .