Battle of the Irish rugby giants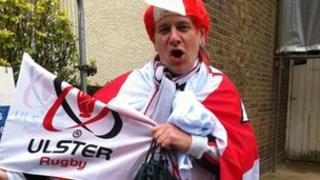 It has been 13 long years since the Ulster team were last crowned the kings of European rugby.
So history weighs heavily on Brian McLaughlin's men to relive those glory days.
The only thing standing in their way is the might of a Leinster side looking to add to its already substantial trophy cabinet.
But there'll be no silver going Leinster's way if Ulster fans have their way.
They've been arriving thick and fast in Twickenham, a sea of red, white and black on the streets, in pubs - and with an air of confidence that this is Ulster's moment.
Stephen Carr from Carrickfergus worked a night shift on Friday before catching an early flight to London on Saturday morning.
He's had no sleep but he's running on the adrenalin of being at this final.
"It is wonderfully ironic that this place (Twickenham) has been turned red, white and blue by the colours of two Irish teams," he says.
And so is he confident of an Ulster win?
"I hope the team does the decent thing and wait until Monday to have the big victory parade in Belfast, because I won't be back until then."
Milling amongst the Ulster supporters at Twickenham is Simon Tuohy, proud dad of Ulster lock, Dan.
"It's amazing to be here. I was speaking to Dan, he very relaxed about the game and quietly confident. Ulster like being the underdogs."
He added, "If they win I might run onto the pitch to hug Dan but I won't be streaking!"
As thousands of supporters from both teams stream in steady file towards Twickenham - with that kick off time drawing ever closer - I spy some unusually dressed Leinster girls.
They've gone all out for the occasion with Avatar-themed costumes - for them blue is the only colour to wear today.
"It's going to come down to the wire today, both teams deserve to be in the final - but Leinster are going to pip Ulster at the post."
So the countdown is well and truly on to what promises to be a gladiatorial battle at Twickenham.
And as tens of thousands of supporters 'Stand up for the Ulster men' - you can be sure that when that final whistle blows, they will want to party like it's 1999.