Tommy English family suing police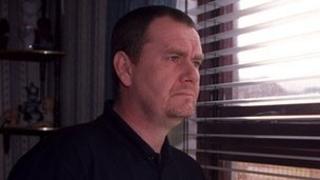 The family of murdered UDA man Tommy English are suing the PSNI over the alleged failure to take action against a police agent linked to 10 killings.
They are claiming misfeasance in public office against the chief constable for the force not taking steps to prevent the October 2000 UVF shooting.
In February, nine men were acquitted of Mr English's murder.
Mr English was shot dead in front of his wife and children at his home on the Ballyduff estate in Newtownabbey.
Lawyers representing his widow, Doreen, and their children have focused on a major report by former Police Ombudsman Nuala O'Loan.
In 2007, she found that police protected a north Belfast UVF unit responsible for up to 10 murders.
At the centre of the legal action is the alleged role of a member of that gang identified only as Informant Number One.
It is claimed that the Ombudsman report links this agent to 10 murders before Mr English's murder.
Had proper action been taken against him sooner he would not have been free to plot the killing, according to the case being made.
In the High Court on Monday, it was confirmed that civil proceedings can now press ahead.
A solicitor for Mrs English told the judge he was still seeking discovery of documents to as part of his preparations.
The material being sought is understood to include all available Special Branch records.
Mr Justice Gillen fixed the case for a week-long hearing next March.