Belfast model Gemma Garrett asks: Are my fake breasts safe?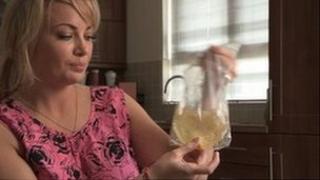 Model Gemma Garrett has called for more information about the risks of cosmetic surgery after her PIP implants ruptured.
Ms Garrett had her implants removed when her doctor found silicone in her blood.
More than 50,000 women in the UK are believed to have the implants.
A documentary based on Gemma's story, warning young girls about the risks of implants, was shown on BBC3 on Monday.
The 30-year-old from Belfast began modelling at 17. She went on to become Miss Ulster 2000 and Miss Great Britain in 2008 and 2009.
'Cooling off period'
Ms Garrett said she learned a lot while making the programme.
"During the making of the documentary I put a lot of pressure on the Minister for Health Anne Milton. I want the governemt to give out more information on the risks of breast augmentation
"Anne said that lessons had to be learnt from the PIP scandal and that greater communication was needed between the companies, the government and the regulator.
After meeting young women who still wanted implants the model said she would like to see the industry being more closely regulated.
"I would like to see regular spot checks in clinics but I would also like to see a six month cooling-off period introduced after the first consultation.
"Some people have said that is a bit harsh but I don't think many young women realise how big a decision it is to have implants. They do not realise that you have to have five operations over your lifetime, that they have to be replaced evey 10 years and that things really can go badly wrong.
"I'm so shocked by how many women still want breast implants after the PIP scandal. I met a group of 15 and 16 year old girls who said they felt it was now safer to get a boob job now the scandal has happened. I couldn't believe it when I heard that.
"I was 26 when I had my implants but these girls are hoping to get theirs put in the next few years.
"I hope my documentary will inform these young girls about the risks."
Ms Garret started modelling at a young age and said the media puts pressure on young women.
"I never felt any pressure when I was younger to have bigger boobs but I did feel pressure in terms of weight," she said. "When I was 15 I was not worried about the size of my boobs like these girls are."
Gemma's implants cost £4,000 but it cost her £11,000 to have them removed.
Gemma Garrett: Are my fake breasts safe? was shown on BBC3 on 21 May 2012.