Judge says Smithwick Tribunal 'needs more time'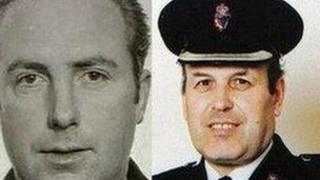 A Dublin tribunal set up to investigate allegations of Garda/IRA collusion in the murder of two RUC officers has sought more time to finish its work.
The Smithwick Tribunal was originally due to end last November, but following a row with the Irish Justice Minister Alan Shatter, a six month extension was granted.
With that end of May deadline fast approaching, the judge has again written to the Irish government seeking five more months to produce his report.
Minister Shatter said he would bring the matter to the government shortly for its consideration.
Significant
Tribunal chairman Peter Smithwick said he had been on course to complete public hearings by the end of this month but "in recent days two very significant former RUC Special Branch officers who had previously been unwilling to give evidence have changed their minds".
The judge had previously been critical of the reluctance of some officers with potentially important evidence to come forward.
He also expressed his pleasure that co-operation had been reached with the British authorities to allow "highly relevant and potentially significant" intelligence information to be put on the tribunal record.
However, the "final substantive witness", retired Detective Garda Sergeant Owen Corrigan, is ill and will be unable to give evidence for a number of weeks.
Ambush
Mr Corrigan is one of three former gardaí with representation before the tribunal, the other two retired Sgt Leo Colton and former Sgt Finbarr Hickey have both given evidence recently.
The tribunal was established in 2005 to investigate allegations that a garda mole colluded with the IRA in the murders of RUC Chief Superintendent Harry Breen and RUC Superintendent Robert Buchanan.
The officers were shot dead in an ambush in March 1989 as they returned from a meeting in Dundalk garda station
The tribunal has so far heard from 190 witnesses and is approaching its 100th sitting day at a cost of over €9 million.