NIIRTA urges Northern Ireland ministers to take action over empty shops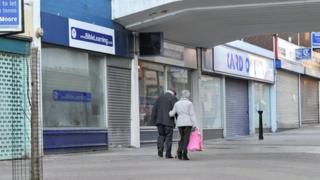 Hundreds more shops in Northern Ireland will close unless politicians take radical action to halt high street decline, a retail group has warned.
Northern Ireland has the highest amount of vacant premises in the UK.
The Northern Ireland Independent Retail Traders Association (NIIRTA) is hosting a conference on Tuesday involving politicians and traders.
NIIRTA's Glyn Roberts said towns needed "the right mix of independent, niche and multiple retailers".
"It's about making town centres destinations for shoppers and providing the very best in shopping experiences as well as making them living communities with a strong café culture and night-time economy," he said.
'Radical measures'
"Our report highlights the need for more radical measures in relation to cutting tax, more rate relief and giving local councils more power to shape their own town centres."
The 50 recommendations contained in NIIRTA's Town Centre First report being discussed on Tuesday include:
A third party right of appeal against out of town superstore applications
Merger of the departments of social development, regional development and environment into a new Department for Strategic Development
Intertrade Ireland to establish a cross-border retail forum
Third extension of small business rate relief scheme in place by 2016
Establishment of Retail Enterprise Zones
Department for Regional Development to give councils a greater role in car parking schemes
Ten-year freeze on car parking charges
Greater private sector involvement in running public transport.