Tribunal told of 'secret payments' to senior AIB staff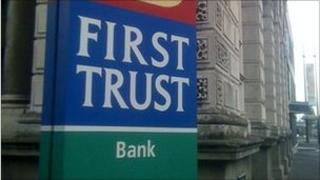 AIB, a bank that was bailed out by Irish taxpayers, gave almost £3m to its senior UK staff in secret payments an industrial tribunal has been told.
Details of the payments emerged after staff at First Trust, AIB's operation in Northern Ireland, took two separate cases over withheld pay and bonuses.
AIB made "retention payments" to its UK executives while withholding pay rises and agreed bonuses from other staff.
AIB said it was losing "key personnel" at the time the payments were made.
Last week, both tribunals ruled against the bank, and hundreds of First Trust staff now look set to benefit as AIB was ordered to honour the annual pay rises and performance-related bonuses that it had refused to pay.
One of the tribunals found that in 2011, AIB made "extra non-contractual payments to certain staff" working in First Trust and the AIB UK Bank.
The tribunal said it had seen correspondence in which the payments were referred to as "special awards", which were given on the condition that the payment and its accompanying letter were "to be kept strictly confidential by the recipient".
It found that in the First Trust Bank in Northern Ireland, payments were made to 24 members of staff, totaling £426,000.
"In Northern Ireland in the First Trust Bank, the grades receiving this award were all senior management level, ie, executive senior managers and managers," the ruling stated.
The tribunal also noted that secret payments were made by a bank that had been bailed out by the Irish taxpayer to tune of approximately 20 billion euros.
"This support was made conditional by the Irish Government that there would be no further bonuses or pay increases made," it added.
Both successful cases were sponsored by the finance union, the Irish Bank Officials Association (IBOA).
IBOA General Secretary, Larry Broderick, described the secret payments to senior executives in First Trust Bank as "outrageous".
"It simply beggars belief that this should be taking place while the bank was not only pleading poverty to its staff but also warning that thousands of job cuts would be needed", he said.
The IBOA has called on AIB to now "honour all contractual payments to staff".
In a statement to the BBC, a spokewoman for AIB said: "The payments made were specifically in relation to AIB's UK business and were awarded at a time when that business was for sale and was experiencing the loss of key personnel.
"These retention payments were made to protect the value of the UK business."
AIB management is meeting the IBOA on Tuesday to discuss plans to cut the bank's workforce by 2,500.
The staff reductions will take place through voluntary redundancy and early retirement schemes.