Bangor couple's marathon trip to join jubilee flotilla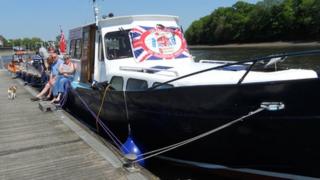 The River Thames in London was packed with boats of all shapes and sizes on Sunday and a County Down couple was among them.
A fleet of more than 1,000 vessels was decked with red, white and blue bunting and union flags in celebration of the Queen's Diamond Jubilee.
Robin and Evelyn Clark from Bangor, County Down were there, cruising along the Thames in their boat, Blue Moon.
The event marked the end of a long journey for the married couple.
Speaking ahead of the event, Mr Clark said: "It's a once in a life time experience and there are a lot of historic boats on the parade.
"I think we are the only people from Northern Ireland going."
The adventurous pair travelled from Lough Neagh to Belfast via Portrush, around the Isle of Man, the length of the Welsh coast and past Land's End on the south coast of England.
Dolphins
During their whistle-stop tour of the British Isles the pair encountered some memorable sights.
"The highlight of the trip was seeing the schools of dolphins in the Bristol Channel.
"When we went into Milford Haven, seeing the absolute enormous size of the ships...you think you have a big boat until you go into there.
"But the wildlife, the seals, porpoises off the coast of the Northern Ireland coast and the dolphins have to be the highlight," said Mr Clark.
It was not all been plain sailing for Evelyn and Robin. They ran into heavy weather off the coast off the Welsh coast.
Luckily their experience in the Bangor sea cadets and the Royal National Lifeboat Institution meant they could negotiate their way out of trouble.
"We got the weather a bit wrong off St David's Head (Wales) and somebody actually phoned the coastguard when they saw us going past, " said Mr Clark.
The coastguard then contacted us asking if we were in difficulty but we said we were alright and managed to negotiate it ok in the end."
Enthusiasts
They were joined on board the final leg of their journey by some family members and other sailing enthusiasts to take part in the jubilee flotilla.
"We have three sea cadet officers and one cadet who is actually my daughter," Mr Clark said.
"A friend is coming over who is a retired operations officer from Enniskillen RLNI.
"My son-in-law is coming too. "
The flotilla was supported by passenger boats carrying about 30,000 members of the public.
The atmosphere promised to be carnival-like with music barges and some boats containing geysers that spouted water into the air.
The flotilla reflected the UK's maritime heritage. The official pageant journeyed down river from Putney to Tower Bridge in London.
It featured a seven-mile long procession of Dunkirk little ships, historic vessels, including steam boats and tugs.