Bobby Tohill attack accused 'may have blacked out'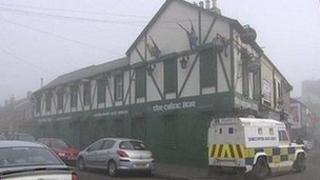 A man accused of cutting the throat of prominent republican Bobby Tohill in a west Belfast bar may have suffered a blackout, the High Court has been told.
Thomas Valliday, 59, was on medication and drinking three litres of vodka a week at the time, the court heard.
Mr Valliday, of Clonard Place, denies charges including attempted murder.
A judge denied an application to amend his bail conditions to lift a ban on him entering part of west Belfast to allow him to return to his family home.
Other charges faced by the accused include grievous bodily harm with intent, assault occasioning actual bodily harm, possession of an offensive weapon in public and assault on police.
A total of four people were injured during an outbreak of violence on 15 March last year.
The judge was told multiple neck and body wounds had been inflicted on Mr Tohill in an attack at a bar on Falls Road.
Police were told his throat had been cut, but he had left the scene by the time they arrived, the court heard.
A prosecution barrister said: "Mr Tohill had flagged down a motorist who brought him to the Royal Victoria Hospital for emergency surgery which appears to have saved his life."
Mr Tohill has since withdrawn his statement of complaint, but is still to be summonsed to give evidence in the case.
The court was told police have linked the stabbing to a possible disagreement or feud between Mr Tohill and Mr Valliday.
Trail of blood
Officers arriving at the scene followed a trail of blood and came across street fighting a short distance away.
One man suffered a head injury while a woman was said to have been punched and knocked out.
Mr Valliday was arrested and had to be handcuffed because of aggressive behaviour, a prosecution barrister claimed.
"During interview he said he had no memory (of the incident) because he was an alcoholic and on a large amount of medication," he said.
"He said he drank three litres of vodka a week mixed with his medication."
A defence lawyer said his client was not carrying a knife when arrested, and there was no suggestion of any pressure being put on the alleged victim to withdraw his statement.
"Mr Tohill has in the past made no secret that he stands up to various members of the community," the barrister said.
"He has not hidden in terms of making allegations, but in this particular case he has indicated he is not co-operating with police."
He also set out his client's position in having no memory of what happened.
"He raised the possibility that he had suffered a blackout, whilst maintaining his innocence," he said.
However, Mr Justice Stephens refused to vary bail in the case which he said involved "almost total violence and major disorder".
He ruled that it was insufficient to produce a year-old medical report to support claims Mr Valliday was now completely teetotal.