Campaign tackles pedestrian deaths on Northern Ireland roads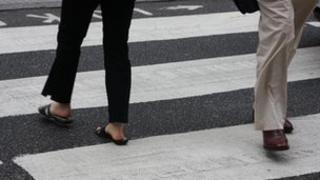 A campaign to tackle the rising number of pedestrians killed on Northern Ireland's roads has been launched by Environment Minister Alex Attwood.
The Just Because campaign focuses on the responsibility that pedestrians and drivers have to respect each other.
So far this year 15 people have been killed on the roads, including two pedestrians.
Between 1998 and 2011, 360 pedestrians have been killed while 3,073 suffered life-changing serious injuries.
Just over one in five deaths on Northern Ireland's roads are pedestrians.
Mr Attwood said: "Pedestrians do not have protection when they are hit by a vehicle.
"This makes pedestrians susceptible to serious injury when they are struck by a car, truck or bus.
"Even a relatively low-speed collision can result in death. The continuation of pedestrian deaths makes this campaign timely and I very much hope has real influence."
Research has shown that almost three-quarters of pedestrian deaths were due to pedestrian error, while drivers were responsible for over one quarter of pedestrian deaths.
The campaign's television advertisement, which will run 23 May to August, highlights some of the rules in the Highway Code and dramatises the tragic consequences if drivers or pedestrians do not know, understand or respect these rules.
Mr Attwood said: "Pedestrians have a right to use the road just as motorists have a right to drive. A wider appreciation for the problems they each face on their respective journeys will surely lead to a reduction in collisions and tragedies.
"Vigilance is the key here. Drivers vigilant of pedestrians and respecting their right to use the road. Pedestrians themselves taking sensible precautions like wearing conspicuous clothing and crossing the road at appropriate places, including using pedestrian crossings."