PGCE places cut by 20% in Northern Ireland universities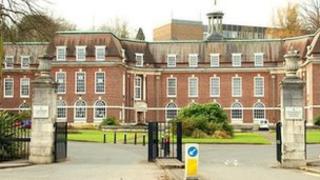 The Department of Education has reduced the number of post-graduate places for trainee teachers by 20%.
The one-year courses prepare graduates in any subject for classroom jobs.
The department has been trying to limit the number of teachers who are trained, at a time when there are widespread redundancies and many unemployed new teachers.
This year's figure of 663 training places will be reduced to 600 next year.
The biggest cut is to the post-primary Post-Graduate Certificate in Education (PGCE), where numbers accepted will drop by a fifth, from 290 to 234.
The changes mostly affect Queen's University Belfast and the University of Ulster.
Neither the two teacher training colleges, St Mary's and Stranmillis, nor the Open University will lose any places.
The number being trained for Irish-medium schools will not change.
In a statement, the department said there were a number of factors behind the decision:
The anticipated impact of the budget settlement for education;
The Public Accounts Committee's recommendation in relation to the oversupply of teachers;
Difficulties faced by newly and recently qualified teachers in gaining permanent employment;
The anticipated level of demand for teachers in future years.
A University of Ulster spokesman said they were "disappointed" and were seeking further information from the department "about the basis on which this decision has been made".