Smithwick Tribunal hears RUC source 'warned of 'mole' in Dundalk station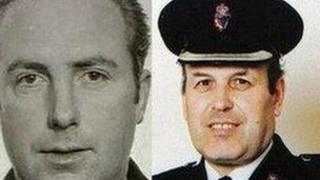 An RUC intelligence source who was asked for information following two separate atrocities that killed 13 RUC officers later warned of an alleged Garda mole within Dundalk station, a tribunal has heard.
Investigations were ongoing into an IRA bombing of Newry police station in 1985 that killed nine officers, and four deaths in a border bomb attack the following May.
The Smithwick Tribunal is looking into claims a garda mole colluded with the IRA in the murders of two RUC officers.
Chief Superintendent Harry Breen and Superintendent Robert Buchanan were shot dead in an ambush in March 1989 as they returned from a meeting in Dundalk garda station.
Giving evidence to the tribunal in Dublin on Wednesday, former Newry special branch officer, Witness Q, said he met the source, grain smuggler John McAnulty, in June 1985.
Mr McAnulty told him, along with his colleague Witness Z, that a detective sergeant in Dundalk, Owen Corrigan, was passing information to the IRA.
This information was written up as an SB50 intelligence document and passed to his superior officers.
Witness Q, who gave evidence anonymously via videolink from Belfast, said he assessed this information as "credible and believable".
Mr McAnulty, who was tortured and murdered by the IRA four years later, was not an IRA member but was described by the witness as someone who mixed with "high ranking and the lower echelons" of the organisation through his smuggling and transport businesses.
Despite repeated questioning from lawyers for both the Irish Police (gardai) and Owen Corrigan, the witness could only recall what he had been told by Mr McAnulty and not how the source had got this information.
This was something Mr Corrigan's lawyer described as "astonishing".
Counsel for the Garda Commissioner, Michael Durack, said there was a big difference whether McAnulty had learnt this information "from a senior member of the IRA or from a man in a pub at two in the morning".
He also pointed out that Witness Q's superior officer had treated the intelligence as "hearsay and gossip" and that it had never been passed on to the gardai.
He said: "To discover a policeman was a traitor and a potential risk to his colleagues and yours, I would expect you to inquire very deeply into the nature of the intelligence and you didn't".
Mr Durack also said the tribunal had heard from then very senior members of the RUC who said they had "not been aware" of this intelligence, and if they had, it would have been treated as a matter of great urgency.
Witness Q said that was a matter for the authorities to answer.
Earlier, the tribunal was granted more time to finish its work. It was originally due to end last November, but a six-month extension was granted.
The deadline was due to expire this month, but a fresh extension was granted after tribunal chairman Judge Peter Smithwick wrote again to the Irish government seeking five more months to produce his report.
Irish Minister for Justice, Alan Shatter, told the Dail that the new deadline was 31 October.
Judge Smithwick said he had been on course to complete public hearings by the end of May but "in recent days two very significant former RUC Special Branch officers who had previously been unwilling to give evidence have changed their minds".
Reluctance
The judge had previously been critical of the reluctance of some officers with potentially important evidence to come forward.
He also expressed his pleasure that co-operation had been reached with the British authorities to allow "highly relevant and potentially significant" intelligence information to be put on the tribunal record.
However, the "final substantive witness", retired Detective Garda Sergeant Owen Corrigan, is ill and will be unable to give evidence for a number of weeks.
Mr Corrigan is one of three former gardaí with representation before the tribunal.
The other two, retired sergeant Leo Colton and former sergeant Finbarr Hickey, have both given evidence recently.
The tribunal has so far heard from 190 witnesses and is approaching its 100th sitting day at a cost of more than nine million euro.