Teresa Townsley defends role in bioscience project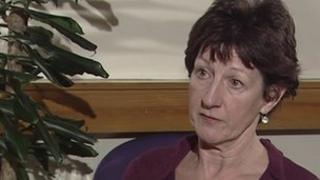 One of the directors of the Belfast Bioscience and Technology Institute project has claimed she has been made a "scapegoat" for the failed enterprise.
The project, which collapsed costing the taxpayer £2.2m, has been severely criticised in a report by a Stormont spending watchdog,
The Public Accounts Committee (PAC) has called on board member Teresa Townsley to face more questions over her role.
Ms Townsley said she was being singled out for blame while others walked away.
Finders fee
The Bio-Science and Technology Institute was a government-backed body, set up in 1998 to offer support to bio-tech companies wanting to start up in Northern Ireland.
The institute went bust in 2002, after buying a new premises which proved too expensive to fit out.
The chairman of the PAC, Paul Maskey, described the project as "one of the starkest examples of incompetence and mismanagement that the committee has ever examined".
Ms Townsley received a £25,000 "finders fee" for identifying the premises in the harbour estate.
The chartered accountant is now facing disciplinary action initiated by the Department of Enterprise, Trade and Investment (DETI) because of her role in the failure of the institute.
Ms Townsley told BBC Radio Ulster's Evening Extra programme that she felt she had been treated "incredibly unfairly".
She said she was being punished for decisions that were taken collectively by the institute's board members.
"It sends a message to people in Northern Ireland - you don't ever want to be involved in public service at all," she said.
The accountant also said the work of the board was "very, very carefully supervised by senior civil servants" and all the members had done their best.
In its report, the PAC said the said the lack of transparency around the sourcing of the premises and the negotiation of the purchase price was of such concern it has called on DETI "to look further into these issues and discuss them in detail with the PSNI".
Ms Townsley said that she had cooperated with everyone who had examined the issue to date and as far as she understood, no complaint had been made to the police.