Queen's University treatment can 'reduce' child trauma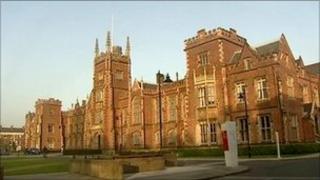 A pioneering programme by researchers at Queen's University in Belfast has been shown to reduce the distress of child war and sexual abuse victims by more than half.
The new treatment, carried out in conjunction with World Vision, resulted in dramatically reduced levels of trauma, depression and anxiety among the children involved.
Lead researcher Paul O'Callaghan said Northern Ireland was at the forefront of this type of work.
"I think the Northern Ireland link was a crucial link in this research, predominantly because of the experience here in trauma and in trauma treatments," he said.
Researchers at Queen's looked at the situation in the Democratic Republic of Congo, where it is estimated that girls and women are 134 times more likely to be raped than their counterparts in the west.
After only 15 sessions of cognitive behaviour therapy, Queen's researchers found:
72% reduction in trauma symptoms in female victims of rape and sexual abuse
81% reduction in feelings of depression and anxiety
72% decrease in conduct disorder
64% decrease in anti-social behaviour
Mr O'Callaghan said: "This is the first time that such a therapy has been used in this way.
"Although trauma-focused cognitive behaviour therapy has the greatest evidence for its effectiveness in treating child victims of sexual violence in the west, to date no study has ever adapted it for use in developing countries affected by the twin evils of war and sexual violence.
"The dramatic reduction in trauma, depression and anxiety, conduct problems and anti-social behaviour shows that this kind of therapy is very effective in treating war-affected children who have been exposed to rape and sexual violence.
"In addition to the statistical results of the therapy many of the girls attested to how the intervention helped reduced their terrible nightmares, disturbing flashbacks and suicidal thinking. For me, that was the most rewarding part of our work," the researcher said.
In the Queen's study, the children received sessions of trauma psycho-education, relaxation techniques, mental imagery techniques, and tips on how to identify and change particular inaccurate or unhelpful cognitions.
The girls also drew pictures of their most traumatic experiences and were encouraged to talk about these events in individual sessions with Queen's psychologists and a team of Congolese counsellors.