Newry teenager Ryan Cinnamond on carrying Olympic torch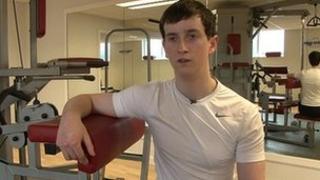 A year and a half ago Newry teenager Ryan Cinnamond lost seven pints of blood and was given a 10% chance of survival after suffering an aortic aneurism.
After 11 hours of surgery and 64 litres of blood transfusion, doctors at Belfast City Hospital had to amputate both his legs to save his life.
On Tuesday, the 17-year-old, now walking on artificial legs, will help carry the Olympic Torch through his home city.
"At the start it was hard, but then realising that I have a disability but I'm turning it into an ability, because I'm able to walk around and do everything for myself," he said.
Ryan's fitness instructor, Michael 'Dixie' Craven, said his progress had been amazing.
"His ability to move about has been fantastic," he said.
"When he first came here we had to sort of lift him around the machines to get him from one part to the other."
Ryan was nominated to be a torchbearer by the Mayor of Newry Charlie Casey.
He said the teenager was an obvious choice.
"He has been an inspiration to us all, the way he had fought adversity," Mr Casey said.
"With a life-threatening illness he fought back to be a champion for young people of his age."
Ryan's mother Peggy said the family was extremely proud of him.
"The progress he's made since he took ill has been phenomenal, he's achieved more than anybody could ever have expected," she said.
"When he lay in intensive care for three weeks, if Ryan had come and just been starting to walk now we'd have been more than happy.
"But he's just not walking, he's getting ready to run."
Looking forward to his big day, Ryan said: "It's getting more exciting building up to the Olympic torch because it's such a big thing.
"It's a great honour and achievement to be carrying it. I can't wait."